Your path to Italian citizenship by descent is based on whether you can prove your Italian born Ancestor became a US citizen after the birth of the child in line with you who was born here in the in the U.S.
Bottom line, the first thing you ought to do is find the actual naturalization records. But how can you find out when the grandparent or great-grandparent took the Oath of Allegiance to the U.S?
Census records are a great source to pinpoint the decade when the naturalization occurred (don't forget that the 1920 Census is the only federal census listing the year when the Italian immigrant became a U.S. citizen). If your ancestor settled in New York, always check the NY State Census, especially the 1925, where the year and location of the naturalization is listed. 
WWI Registration Cards tell us whether the male ancestor was "non-declarant" meaning still an Alien, "declarant" meaning he had declared his intention to become a US citizen, or "naturalized", meaning he had already become a US citizen. 
Some Passport Application records are now available online and if your ancestor applied for a passport to go back to Italy to visit family members, these records will tell you when and where the naturalization took place. 
If you still are unable to find any Naturalization information of your Italian born ancestor, you should always check if the "wife" ever became a US citizen on her own. If she did, you may have hit the motherlode! Usually, the spouse's naturalization occurred much later and if so, her petition will list the naturalization status of her husband (unless the husband was already deceased), including the year and location of his Oath of Allegiance.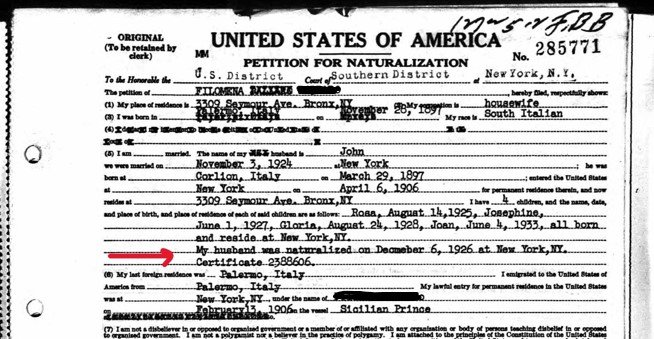 This is what we do at My Italian Family; we research all available sources to determine if you are eligible for Italian citizenship by descent and we do it free of charge! Take advantage of our FREE Consultation or fill out our FREE Eligibility Assessment. If you qualify, we can assist you all the way from Start-to-Finish until the day you will be able to show off your Italian passport.
We can determine if you qualify AND provide you with a free personalized estimate; simply fill out this form 
As always, our phone lines are open and you can easily book your free call with us!  
If you already know that you qualify and you are ready to get started, sign up for our Full Assistance Start-to-Finish Program: we will acquire all the needed vital records from both Italy and the U.S., process all the required amendments, and complete your portfolio with apostilles and translations to Italian. We'll prepare you for your appointment at the Consulate, instruct and coach you if applying in Italy, or introducing you to our affiliate law firm in Italy for handling the 1948 Challenge Lawsuits. 
© 2022 MY ITALIAN FAMILY, LLC. All rights reserved.