Our Services
Apply for Italian Citizenship
Our comprehensive "Start-to-Finish Program" includes gathering of required Italian & US Vital Records, Naturalization Papers, Apostilles and Translations. We provide full assistance, including preparation for your Consulate Interview!
Research your Family Tree
Discover the complete story of your Italian Roots! Our genealogists bring you intricate details about the lives of your Ancestors and present day Family. You will receive a Family Book with first-hand research results & photos of your Ancestral town.
Order Italian Documents
When applying for Italian Citizenship, you'll need to gather Italian Vital Records to prove your Ancestor was indeed born in Italy. Here you can order Birth, Marriage, Death, Certificate of Citizenship, Certificate Positive/Negative records.
They are thorough and complete!
My Italian Family really knows what they are doing and are very thorough. They helped me and my son get our Italian citizenship and presented the finalized documents to take to the Italian consulate in a very organized folder. Getting Italian Citizenship is a lengthy process and will not happen overnight but My Italian Family team will make sure it happens!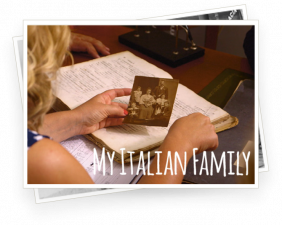 In genealogy, it is never what you think!
I always knew I wanted to tell the story of Castelvetere sul Calore, my ancestral hometown in Campania. When my mother and I first rediscovered the town 23 years ago, who could have imagined that our story would turn into an episode of my own PBS travel series Dream of Italy! So I turned to My Italian Family for help in finding all of the documents we needed to effectively tell the story of what we thought was the truth. In genealogy, it is never what you think!"
Excellent Service including for "do-it-yourselfers"!
If you are seeking Dual Citizenship you MUST consult and use My Italian Family . They are thoroughly familiar with how to get all of this done. They acquired certain documents from Italy for me as well as some other documents from various sources . For the documents which I retrieved on my own they advised me on easily used methods of locating and collecting them , notaries , apostilles, etc. I recently successfully completed this entire process and simply could not have done it without working with them.