Our client, Vita Giannone, an avid family historian, proud American of Italian descent and Order Sons of Italy member, recently made a trip to her ancestral town in Italy. Vita wrote about her experiences in Campagna and was kind enough to share a portion of her unforgettable journey with us. Thank you, Vita, for allowing us to play a small part in your Italian family story as researchers and guides!
Guest Post By Vita Giannone   
Recently, I made my "Pilgrimage" to my Town of Origin - Campagna (Salerno): it has blown my mind entirely. I am completely overwhelmed with the emotions I felt that day.  It started with the anticipation of what might be ahead and ended in sheer amazement of all that this town held for me. It held my past, my present and hopefully some part of my future. There were so many coincidences as we researched and walked through the town. People may call it luck. Or coincidence. I call it Fate. My family was on the other end guiding this trip, and I felt it.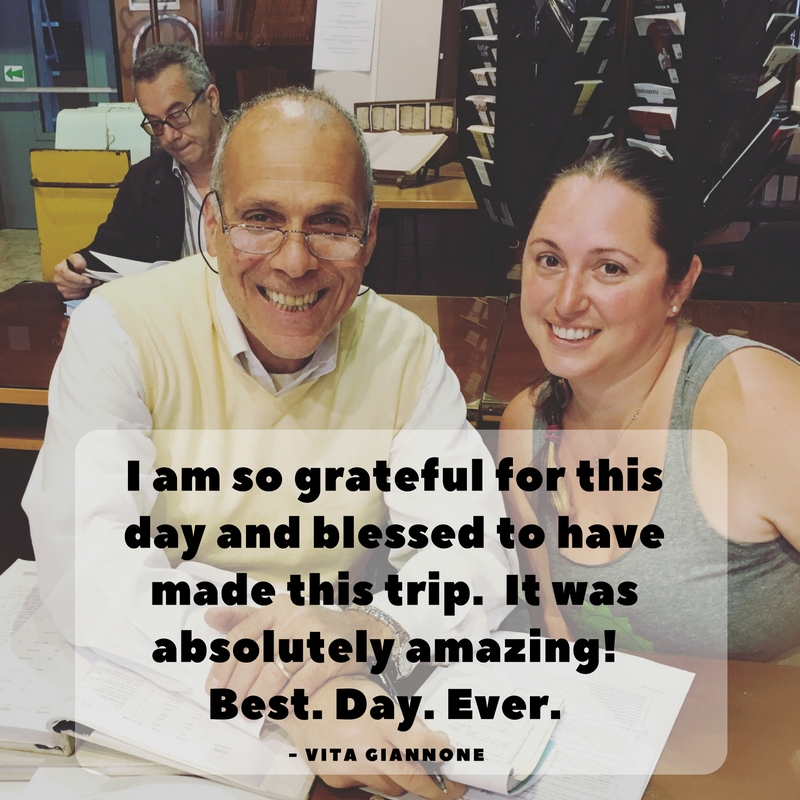 My day started at 7AM meeting the onsite researcher, MY ITALIAN FAMILY provided, Giuseppe. Originally from NJ where his parents immigrated several ago, he chose to come back home to Avellino at 20 where he has been living with his beautiful wife and children.
Giuseppe took us to the State Archive in Salerno early in the morning to get started. We found out that my great grandmother Teresa Cioffoletti celebrated her birthday on July 19th (1889), but our family had her birthday off by a year (it was 1888). After we logged a few more dates, and a few more sets of great grandparents, we had new dates to look up.
From this process, we are able to record the street addresses that my ancestors lived on, and the parishes they belonged to. The two churches we wanted to visit were San Salvatore (now known as San Antonino) & San Bartolomeo. In addition, we learned about their occupations: my great-grandfather Ferdinando Mirra was a lumberjack while his wife Teresa Cioffoletti was a farmer. The names Mirra and Cioffoletti were HUGE in this town, as well as a few other surnames that run in the family.  Casale, Caponigro, etc.

After we gathered all of this useful amazing information, Giuseppe handed us off to his sweet son, Giovanni.  Giovanni drove us to my Ancestral town of Campagna. As I looked at the church of San Antonino in Campagna and took some outside photos, Giovanni went into a little cafe' to ask about the church and if it would be open.  As "luck" would have it, the father of this particular church was in the cafe' and offered to come out to meet the "American researching her familial roots". Again, you say luck, I say Fate & Family.
Father Carlo (in the picture) was such a sweet man that seemed as genuinely interested in finding my ancestors as we were. And he gave us an educational tour of the church and the town as well.  After researching more family records with his help, I asked Father Carlo if we could make a donation to the church and I hope I didn't embarrass him. He blessed me with a medal for the church of San Antonino. I was very touched.
As we were leaving, I asked him if he recognized the Statue from a family picture that I felt pretty sure it was taken in Campagna. I can't explain the happiness I felt when his face lit up. He said with a big knowing smile, "Would you like me to show you this statue?" I couldn't contain myself. This for me, is the biggest mystery I haven't been able to solve. I may have done a little dance right here in the street. After Ferdinando's wife Teresa died in 1959, Ferdinando in 1960, went back and married Carmelina and brought her back to the States with him. She was raised in a convent for orphans, as her parents were both deceased.  But who was she? So when Father Carlo offered to take us there, I was beside myself.  It was run by the "Charitable Sisters". It is now a museum that tells the story of the women who helped so many people.  At the very back of the Convent, he unlocked a door that led out to a terrace. At this moment I was just overwhelmed with emotion as I stepped into the courtyard and this white beautiful Mary statue stood looking over Campagna.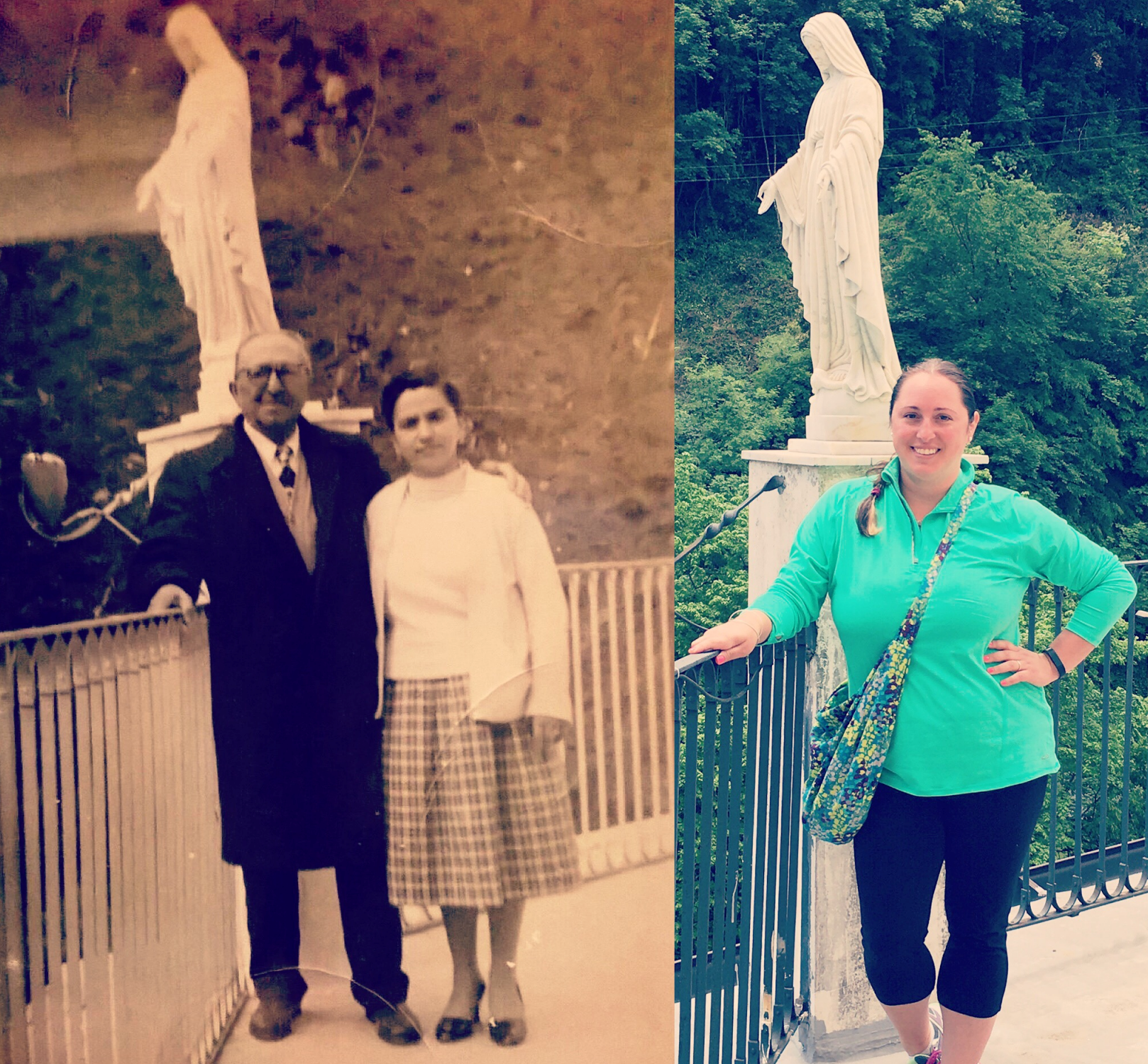 After that really emotional moment, we stopped at a cute little restaurant in the center of town and were served a feast. We were served Prosciutto with Buffalo Mozzarella, spinach and beans in garlic sauce, pancetta "pizza", and then the Pasta Fagioli.  I think it's pretty apropos that I had Pasta Fagioli in a town where my grandmother's family came from, who used to make that dish for us all the time.

After researching additional family information in the church archives of San Bartolomeo, we took the time to walk the rest of the town and took some great photos. We visited the old addresses on the list of where my ancestors were born.  Most of the buildings seemed converted or the streets were renamed.

It was such a beautiful city, and I think part of my heart is there. I am so grateful for this day and blessed to have made this trip. It was absolutely amazing!  Best. Day. Ever.  I can't thank those involved enough!
Click here to plan a visit to your Ancestral town and research your family history. Bring back a lifetime of memories for yourself and your family!