The great Italian scientist Antonio Santi Giuseppe Meucci was born in "popolo" San Frediano, part of historic district of Firenze, in the house located in Via Chiara No. 475 (today known as Via de' Serragli No. 44) in the early hours of April 13, 1808. A day later he was baptized in the Battistero di San Giovanni.
Antonio was the first of 9 children born to Amatis Meucci son of Giuseppe, a government clerk, and Maria Domenica daughter of Luigi Pepi, a homemaker.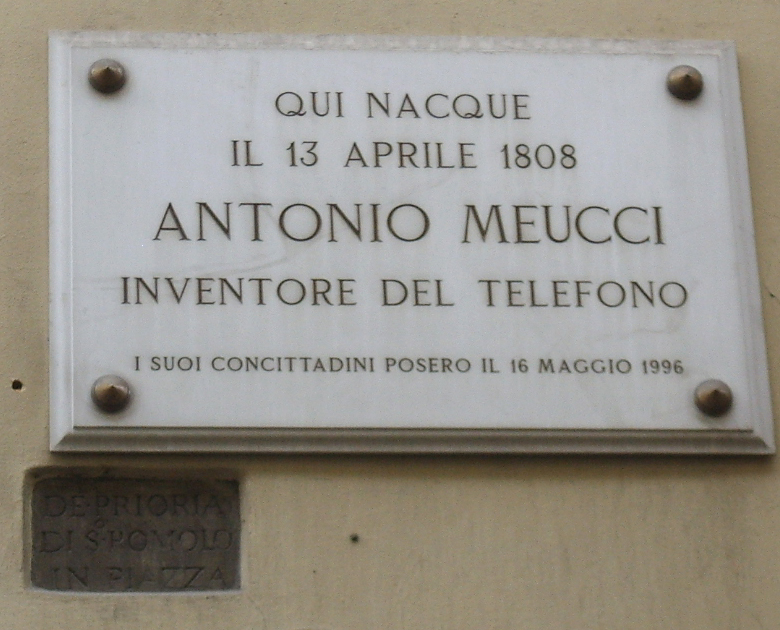 Throughout his life, he worked as a custom's officer, a stage technician, a doctor, an entrepreneur, but most of all he was a scientist and an inventor.
He migrated to the U.S, in 1850 and settled in Long Island, NY where he housed Italian nationalist Giuseppe Garibaldi and other Italian political refugees. After a terrible accident that left him badly burned, his wife Ester Mochi sold many of his working models (including the telephone prototype) and other materials, to a secondhand dealer, for a mere six dollars.
When Meucci tried to recover them, he was told that they had been sold to an "unknown young man" whose identity, to this day, remains a mystery...
NOTE: Meucci's baptismal record is maintained in the Church Archives of the Cathedral of Santa Maria del Fiore in Firenze.