We are only a few days away from the 1950 Federal Census being released by the National Archives (NARA) on April 1, 2022, exactly 72 years after the recording started.  This is in accordance with the law that states that census records may only be released to the public 72 years after they are taken. 
Better news: from this day forward, many volunteers with the help of advanced technology will start indexing the Census so that it will be searchable for free on many other sites (Ancestry, MyHeritage, Family Search) soon after the release date. We may have to wait for the full indexing before we can benefit from additional search capabilities that will make the search of our Ancestors much easier and faster. 
What type of information can be found in the 1950 Census? 
Among the many questions numerators asked to the people living in a household, are:
1.    Name of street, avenue, or road
2.    House and apartment number
3.    Serial number of dwelling unit
4.    Is this house on a farm or ranch?
5.    Is this house on a place of three or more acres?
6.    Agricultural Questionnaire Number
7.    Name
8.    Relationship to head of household
9.    Race
10.    Sex
11.    Age on last birthday
12.    Marital status: Married (Mar), Widowed (Wd), Divorced (D), or Separated (Sep)
13.    State or country of birth
14.    Naturalization status if foreign born (Yes, No, or AP for born abroad of American parents)
The good news is that also in this Census, information about the citizenship status of the head of the household is listed. This will be extremely useful for all applicants for Italian citizenship who are researching if their Italian born ancestor was already a naturalized US citizen or still in Alien in 1950.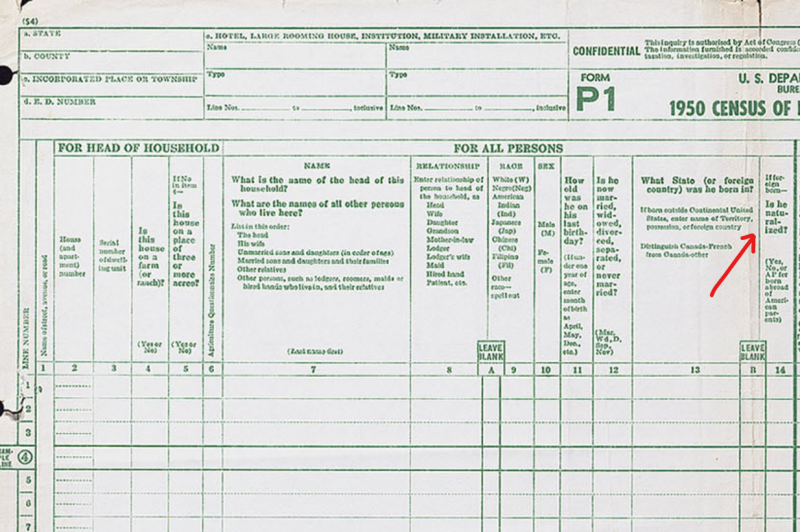 What to do if you need a certified copy of the 1950 Census? 
After April 1, 2022, the National Archives will provide certified copies of a specifically identified page of the 1950 federal decennial population census schedules; the fee is $35 ($20 for the copy and $15 for the certification). You will need to provide the name of the individual(s) listed, page number, census year, state, county, and enumeration district.
TRIVIA
The first federal census was taken in 1790 and has been repeated every 10 years since, in years ending in zero.
151 million Americans (including those residing abroad) were recorded in the 1950 Census, a 14.5% increase versus the number recorded in the previous Census,
The 1950 Census was the last time enumerators personally visited most households with large multi-family census sheets. During the 1960 and later censuses, households received enumeration forms in the mail and mailed them back to the Census Bureau.
If you would like to learn more about the qualification requirements and with our assistance determine if you qualify for Italian citizenship by descent, call or book a FREE CONSULTATION with us. 
If you already know that you qualify and you are ready to get started, sign up for our Full Assistance Start-to-Finish Program: we will acquire all the needed vital records from both Italy and the U.S., process all the required amendments, and complete your portfolio with apostilles and translations to Italian. We'll prepare you for your appointment at the Consulate, instruct and coach you if applying in Italy, or introducing you to our affiliate law firm in Italy for handling the 1948 Challenge Lawsuits.