When applying for Italian Dual Citizenship or researching our Family History, the starting point is the official Italian birth record of that first Italian born Ancestor who migrated to the US. We have to remember that all family documents in Italy are only maintained in the exact town where the person was born. Surprisingly, many Italian Americans today often don't know the exact town of their Father or Grandfather or Great Grandfather.  The good news is that there are a number of US records that may shed light on the town of birth of the Ancestor(s) who left Italy.

Let's review some of them.

•    From Ship's Passengers Lists we learn the last place of residence of the person coming over; always check for the second page of the Manifest, if available, as his or her place of birth may be listed.  Additional personal information such as physical description of our Ancestor at the time of his or her arrival in this country, how much money he or she was carrying, with whom he or she was traveling and whom he or she was going to meet here in the US.  Italian immigrants generally traveled with family members, friends or neighbors and settled in the same neighborhood. Often husbands would come first, find a job and then return to Italy to bring back wives and children. Others would come to the US to work part of the year and then return to Italy. They were called the "birds of passage".

•    Since 1900, Federal Census Records give us a snapshot of the family listing all the names, ages, occupation, country of origin, year of immigration and even naturalization information. This is how we can learn if our Ancestor was an alien or had become a naturalized US citizen. When applying for dual-citizenship, this is a required document in the event he or she never naturalized. In addition, the Census is really the first document to give us an idea of the status of the family after they settled in this country.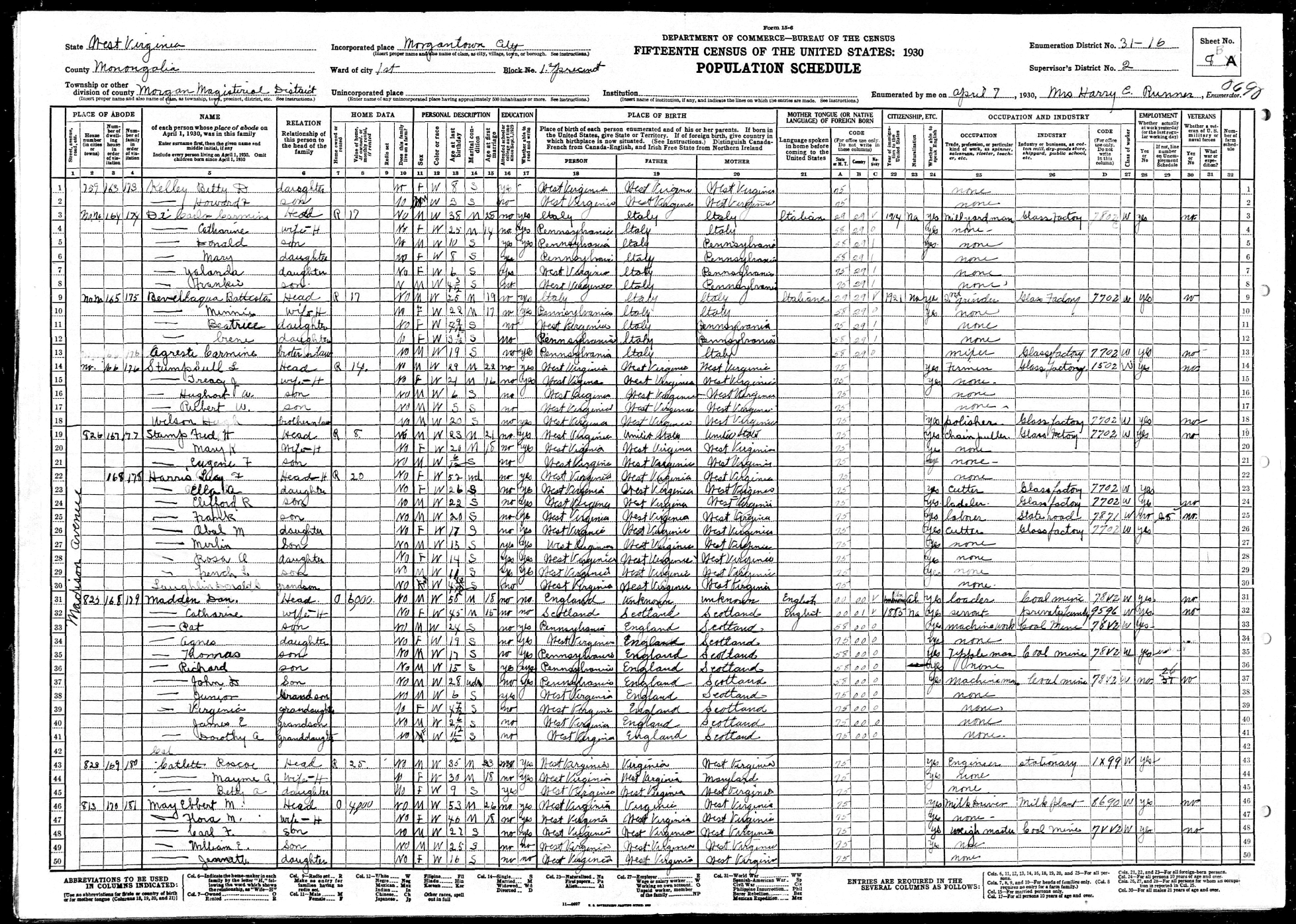 •    If the census records showed that our Ancestor was naturalized, the next step would be to research the Naturalization Documents. As a general rule, naturalization was a two-step process that took a minimum of 5 years. After residing in the United States for 2 years, an alien could file a "declaration of intention" (so-called "first papers") to become a citizen. After 3 additional years, the alien could "petition for naturalization." After the petition was granted, a certificate of citizenship was issued to the alien. These two steps did not have to take place in the same court. A copy of the Petition was kept at the court, and a copy of the Petition and Certificate was sent to the Department of Immigration and Naturalization Services, which is now USCIS.  After 1952, the Declaration of Intention was no longer required.
These records include the alien's month and year (or possibly the exact date) of immigration into the United States, the date and place of birth, the occupation as well as the spouse's name and place of birth, when they were married and their children's dates and places of birth.
NOTE: wives and minor children were automatically naturalized with their husbands and fathers.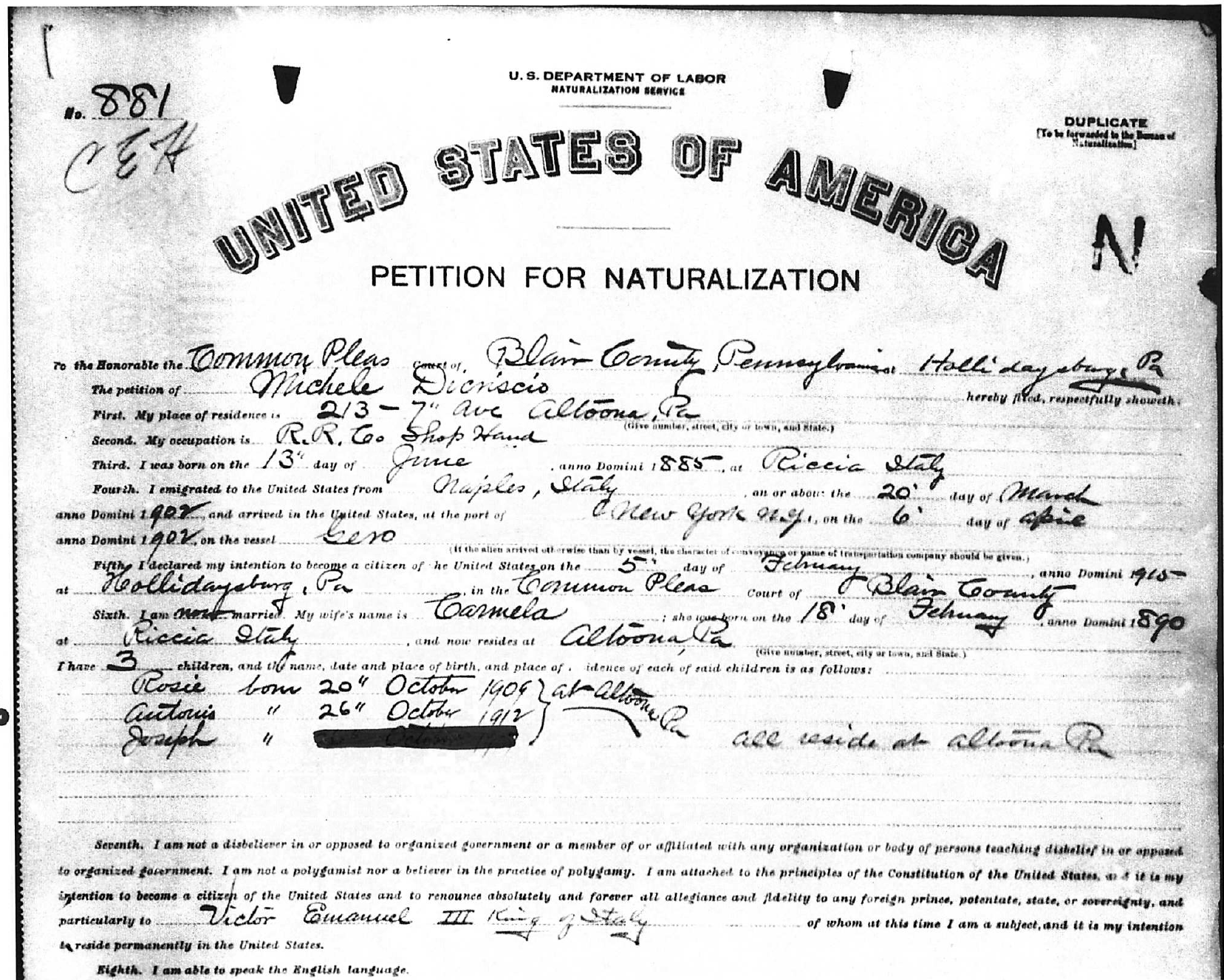 •    The Social Security Death Index (SSDI) is an index of several million deceased people who had social security numbers and whose deaths were reported to the Social Security Administration. The index lists deaths since 1962. These records include the original Social Security Application that our Ancestor would have completed in order to acquire a Social Security Number, a procedure that began in 1936. The so-called SS-5 Form will include our Ancestor's full name, date and place of birth, parents' names, residence, occupation and more.

•    Although Passports were not required for travel until 1941, once our Ancestor became a naturalized citizen and traveled back and forth to Italy, he or she may have applied for a US passport. To apply, the applicant had to provide extensive information from birth date and place of himself and other family members, his occupation and physical description.

•    Other records that can provide useful information are Military Records, Probate Records, Tax and Assessment Records and Church Records.  As an example, Probate Records are those records and files kept by a probate court. The word probate comes from Latin and means "to prove," in this case to prove in court the authenticity of a last will and testament of someone who has died. Probate records can provide invaluable information. They may include lists of heirs and devisees that indicate familial relationship, the household inventories, the buildings where they were living in, etc. Finally, let's not forget that the majority of Italians are Catholic and most remained so after the immigration. Many married in Catholic churches here in the US and also baptized their children. Catholic priests registered all these events and these records can be available if you know what parish was used by your family.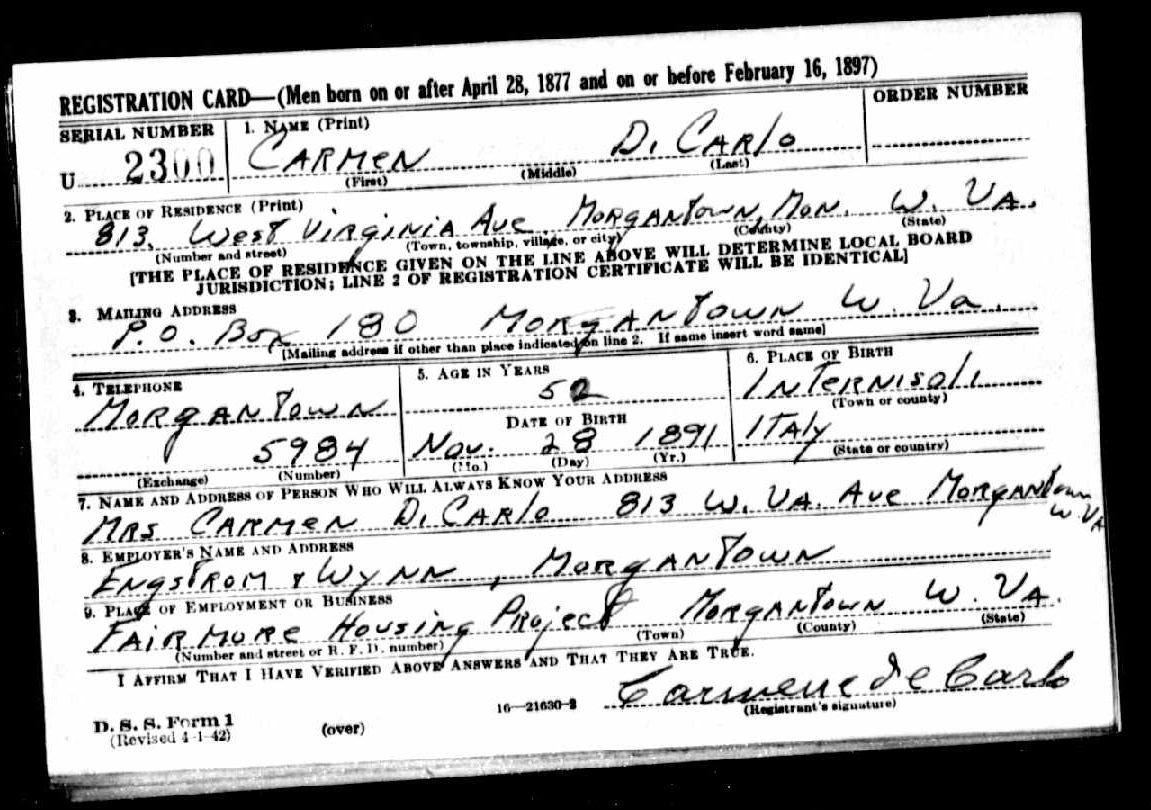 So when you embark on efforts to discover your Italian Heritage, and/or apply for Italian Dual Citizenship, although the most important documents are always found in Italy, US based documents are necessary to verify your eligibility requirements and can provide valuable and insightful information about where in Italy your family lived and how they lived and survived here in the United States.
LEARN IF YOU QUALIFY FOR ITALIAN DUAL CITIZENSHIP
RESEARCH YOUR FAMILY HISTORY

© 2016 MY ITALIAN FAMILY, LLC. All rights reserved.