Errico (Errico being the Neapolitan version which was later changed to the Italian version Enrico) Caruso was born in Naples on February 25, 1873 in the house located in Via Santi Giovanni e Paolo, n. 7,  in the populated district known as  San Giovanniello, located between Piazza Ottocalli and Piazza Carlo III (picture below). He was the son of Marcellino Caruso a foundry worker and of Anna Baldini, a cleaning lady originally from the town of Piedimonte d'Alife (today known as Piedimonte Matese) part of the province of Caserta where they got married on August 21, 1866, who chose to move to Naples in search of a better future.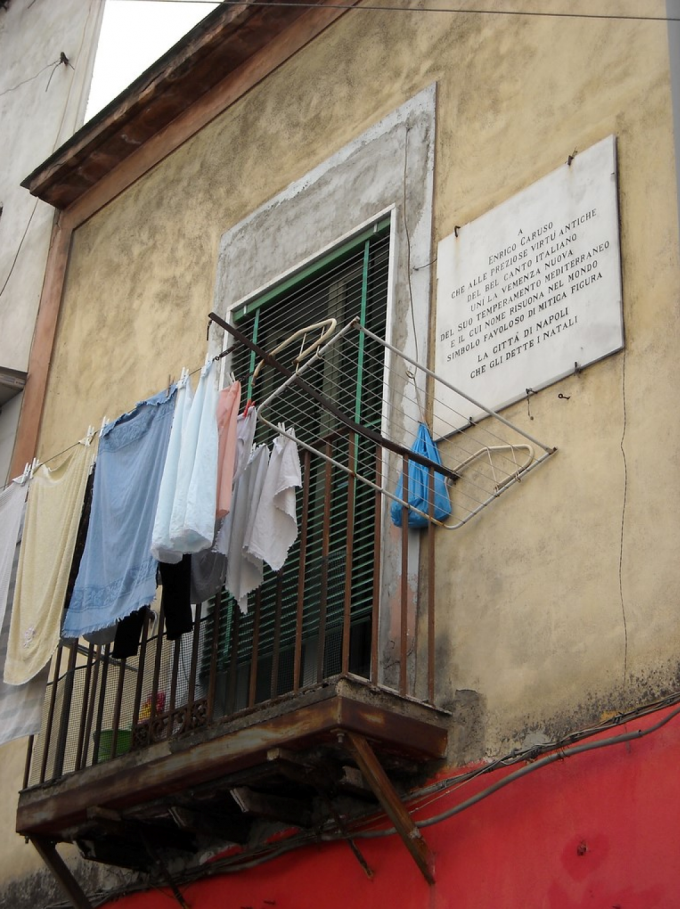 Enrico was the first of seven children of whom only three survived. He attended school until he was 10 years old where he received basic education and learned how to sketch (something that will become one his beloved hobbies throughout his short life).
His father took him out of school and apprenticed him to a local mechanical engineer who specialized in designing and building public fountains. Later when visiting Naples he will always point out a fountain that he helped design. But it was during this period that he started singing in his church choir; his voice showed enough promise for him to contemplate a possible career in music. Encouraged by his mother who died of tuberculosis when he was only 15 and despite the family financial difficulties, Enrico started to perform anywhere he could, in streets, beaches, cafes and private soirees. At the age of 18 he was able to buy himself a new pair of shoes with the cash earned from his singing performances.
But money continued to be in short supply for the young Caruso.  During one of his early performances in Naples, he was booed by a section of the audience either because he failed to pay a group of them to cheer for him or perhaps because they pointed out some weaknesses in his voice. This incident hurt his pride. He never appeared again on stage in his native city, stating later that he would return to Naples "only to eat spaghetti."
With more training, his success came with the debut at La Scala on December 26 1896 in the part of Rodolfo in Giacomo Puccini's La Bohème with Arturo Toscanini conducting; but his peak started in 1903 when he performed in the U.S. Sold out theatres made him an "idol" and a rich man. He even commissioned Tiffany & Co. the production of a 24 carats gold medal with his profile to hand out to his closest friends. He was the first artist to sell more than a million records.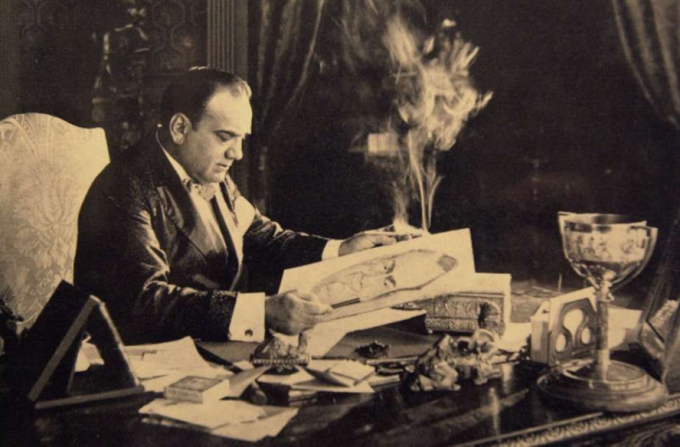 With the United States entering World War I in 1917 and sending troops to Europe, Caruso did extensive charity work during the conflict, raising money for war-related patriotic causes by giving concerts and participating enthusiastically in Liberty Bond drives. Prior to World War One, Caruso had been romantically tied to an Italian soprano, Ada Giachetti, who was a few years older than he was and already married to entrepreneur Gino Botti.  She bore Caruso four sons during their affair, which lasted from 1897 to 1908. Two survived infancy:  Rodolfo Caruso (born 1898) and singer/actor Enrico Caruso, Jr. (1904). Enrico and Ada separated after 11 years. Towards the end of the war, Enrico Caruso met a young Dorothy Park Benjamin, the daughter of a wealthy New York patent lawyer. Despite the disapproval of Dorothy's father, the couple married on August 20, 1918. Together they had a daughter, Gloria Caruso (born in 1919).
A hoarder obsessed with cleanliness (he took two baths a day) and expensive clothes, Enrico loved good Italian food and surrounded himself with an adoring crowd. He compiled scrapbooks (with his famous sketches and caricatures) and amassed valuable collections of stamps, watches and snuffboxes. Caruso was a heavy smoker and this bad habit, combined with a lack of exercise and the exhausting schedule of performances that Caruso willingly undertook season after season contributed to his health deterioration which afflicted the last 12 months of his life. It all started with a throat hemorrhage during a performance which caused chronic excruciating pain and infection on his chest and lungs. He underwent several surgeries until he returned to Italy, to Sorrento to recuperate from the most serious of the operations. 
Enrico Caruso died at the hotel Vesuvio in Naples on the early morning of August 2, 1921. He was 48 years old. The King of Italy, Vittorio Emanuele III opened the Royal Basilica of the Church of San Francesco di Paola for his funeral, which was attended by thousands of people. He is buried in Naples in a private chapel in the Cemetery of Santa Maria del Pianto in Via Nuova del Campo (Doganella).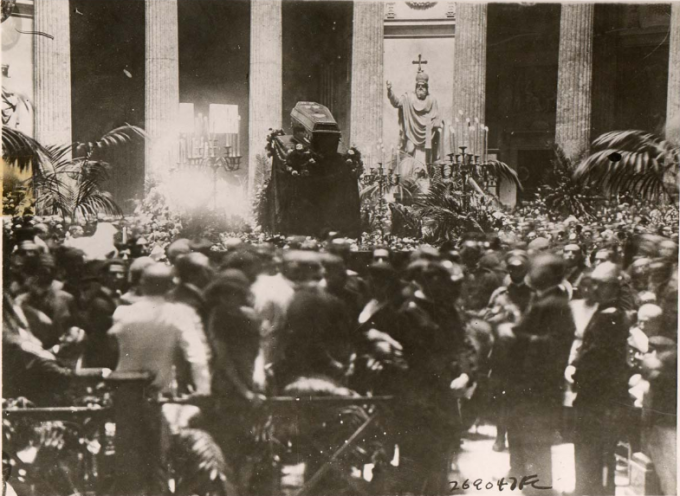 TRIVIA: "O Sole Mio" is a Neapolitan song composed in 1898; Neapolitan songs were songs written for an annual music contest, the Festival of Piedigrotta, which began in 1830 in Naples. "O Sole Mio" was performed at that festival but only came in second...In 1916 Enrico Caruso recorded O Sole Mio; it would become the most famous version worldwide.