Maria Montessori was born on August 31, 1870 in the small town of Chiaravalle (part of the province of Ancona, region of Marche) in the house located in Piazza Mazzini No. 10 (in the picture below). She was the only child of Alessandro Montessori and Renilde Stoppani. Her father, a tradition-bound army officer, was determined and very disciplined; he discouraged his daughter's interest in a professional career because in his eyes the primary role of a woman was to raise her family. Her mother, Renilde Stoppani, well educated for the times, was the niece of the late Abbot Antonio Stoppani, geologist, patriot and author of the book called "Il Bel Paese".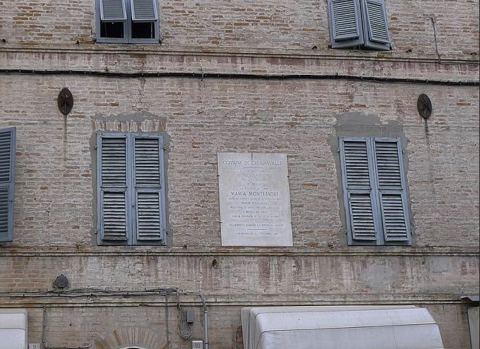 Ahead of her time and against the wishes of her father but with the encouragement and support of her mother, Maria began to attend a boys' technical school in Rome. After seven years an interest in biology led to her decision to study medicine. This choice required some courage and tenacity as it was in defiance of the customs of a society which excluded women from such endeavors. Maria Montessori was the first woman to graduate on July 10, 1896 from the University of Rome's La Sapienza Medical School becoming the first female doctor in Italy.
In her work at the University of Rome, Dr. Montessori developed an interest in the treatment of special needs children and, for several years, she worked, wrote, and spoke on their behalf. In 1907, the Italian government put Dr. Montessori in charge of a state-supported school in the San Lorenzo district of Rome which had 60 children aged 3 to 6 from impoverished families. The news of the unprecedented success of her work in this Casa dei Bambini or "House of Children" soon spread around the world. She was invited to set up a classroom at the Panama-Pacific Exposition in San Francisco, where spectators watched twenty-one children, all new to this "Montessori Method", behind a glass wall for four months. The only two gold medals awarded for education went to this class, and the education of young children was altered forever.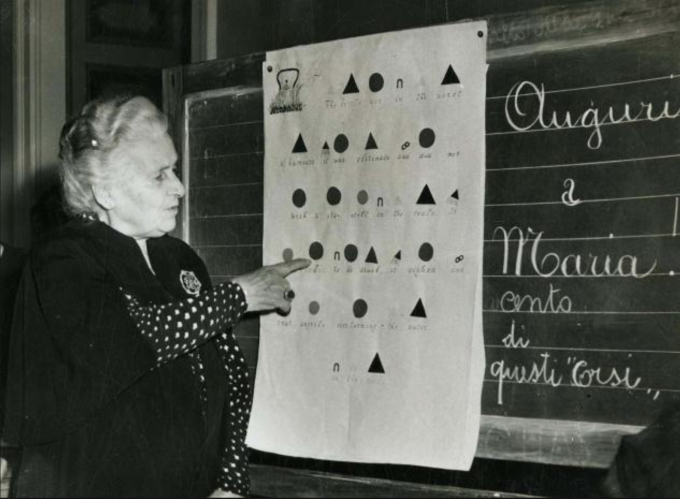 In Rome, Dr. Montessori developed the "Montessori Program" for the elementary school children aged 6 to 12. She adapted the traditional teacher-taught subjects in the arts and science so that the children could use materials to guide their open-ended research and to follow their individual interests, working to a much higher level than was previously thought possible for children of that age.  Her program has spread and today it is estimated that there are about 4,500 Montessori schools in the United States and about 20,000 worldwide.
Among her famous quotes:
Do not tell them how to do it. Show them how to do it and do not say a word. If you tell them, they will watch your lips move. If you show them, they will want to do it themselves.
The greatest sign of success for a teacher... is to be able to say, 'The children are now working as if I did not exist.'
Dr. Montessori lived in many European countries before returning to Italy at the end of World War II. She died on May 6, 1952 in Noordwijk, Holland. In the 1990s before the launch of the Euro, the Italian government replaced Marco Polo in the Mille Lire (1,000 Liras) note with a picture of Dr. Maria Montessori.
© 2017 MY ITALIAN FAMILY, LLC. All rights reserved