Arturo Toscanini was born at 3:00 am on March 25, 1867 in in the house located in via San Giacomo No. 13 in Parma, Emilia–Romagna, son of Claudio Toscanini and Paola Montani.
The origins of the Toscanini family are not from Parma; they can be found in a small town embedded in between two mountains bordering the provinces of Piacenza, Pavia, Alessandria and Genova, by the name of Bogli di Ottone. It is there that Pietro Toscanini, Arturo's great-grandfather was born on 19 May 1769 son of Simone and Maria Toscanini. Later in life he moved to a small town called Cortemaggiore, located in the province of Piacenza, Emilia- Romagna.
Arturo's grandfather Angelo Toscanini was born on August 17, 1790 in Cortemaggiore; he was the owner of a spinning mill and two stores. Angelo married twice: from his first wife Giuseppa Zerbini he had eight children: the twins Giovanni and Giovanna, Luigia, Orsola, Maria Angela, Cristina Rosa and the twins Giuseppe and Pietro.
From his second wife Eligia Bombardi he had 12 children: Innocenta, Giuseppe, the twins Francesco and Giuseppina, Rosalba Rachele, Marianna Paola, Santa Brigida, Clotilde Carlotta, Enrico, Claudio (Arturo's father), Filomena and Eugenia Zita. Angelo Toscanini died in Cortemaggiore on 16 June 1860.
Claudio Toscanini, Arturo's father, was born on 23 January 1833, son of Angelo and his second wife Eligia Bombardi. An idealistic adventurer and a true patriot, Claudio left his paternal home to fight in the war for independence in 1860. He followed Giuseppe Garibaldi whenever the possibility arose.
On 5 June 1866 he married in Parma in the church of Santo Spirito Paola Montani (1840-1924) but left right after to join Garibaldi and his red shirts in the final fight for independence earning honors and medals.
Soon after Arturo's birth in 1867, the family moved to Genova in search of a better job as a tailor. However Arturo's poor health forced his mother Paola to return him to Parma in the care of his maternal grandparents.
Father Claudio died in Milano on March 1906. He was buried wearing his beloved "red shirt".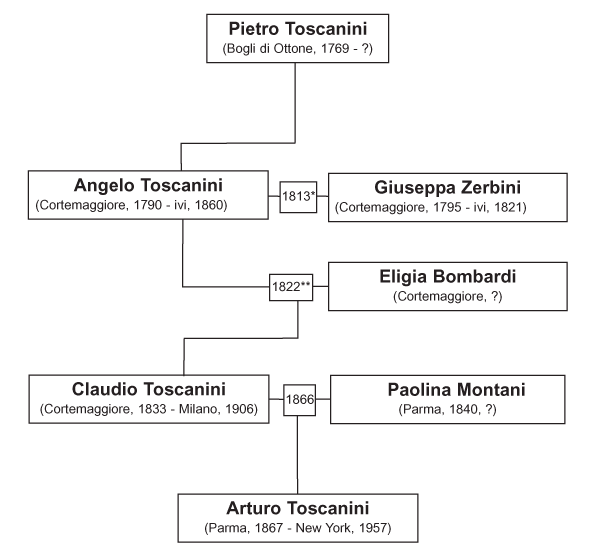 At the age of 11 Arturo had already won a scholarship to the local music conservatory, where he studied the cello. After graduation he joined the orchestra of an opera company, with which he toured South America in 1886. After a very disappointing debut, Toscanini was persuaded to save the company and take the baton for the first time. With a unique ear for orchestral detail and sonority and with an amazing photographic memory, he led a sensational performance of the two-and-a-half hour opera completely from memory. His career as a conductor had just started and he was only 19.
Upon his return to Italy he continued his artistic career as both and operatic conductor and a cello player until the young musician's reputation as a conductor of authority and skill supplanted his cello career. He went on conducting world premieres such as the La Boheme by Puccini and Pagliacci by Leoncavallo and symphonic orchestras with works by Schubert, Brahms, Tchaikovsky, and Wagner.
His career immediately took off and his reputation soon traveled beyond Italy to the rest of Europe and the Americas.
Arturo married Carla De Martini on June 21, 1897, when she was not yet 20 years old. Their first child, Walter, was born on March 19, 1898. A daughter, Wally, was born on January 16, 1900. Carla gave birth to another boy, Giorgio, in September 1901, but he died of diphtheria on June 10, 1906. Then, that same year, Carla gave birth to their second daughter, Wanda. Despite the reported infidelities, he remained married to Carla until she died on June 23, 1951.
In 1919, Toscanini ran unsuccessfully as a Fascist parliamentary candidate in Milan. He had been called "the greatest conductor in the world" by Fascist leader Benito Mussolini. However, he became disillusioned with fascism and repeatedly defied the Italian dictator after the latter's ascent to power in 1922. He would leave Italy only to return in 1946 to conduct a concert at the restored La Scala Opera House, which had been bombed during World War II. Fleeing Italy, he returned to the United States where the NBC Symphony Orchestra was created for him in 1937. He conducted his first NBC broadcast concert on December 25, 1937, in NBC Studio 8-H in New York City's Rockefeller Center. His concerts became cultural events that were broadcast on national radio. Today Studio 8-H is used by NBC for Saturday Night Live.
Toscanini worked with many great singers and musicians throughout his career, but few impressed him as much as the Russian-American pianist Vladimir Horowitz. Horowitz also became close to Toscanini and his family. In 1933, his daughter Wanda married Horowitz, with the conductor's blessings and warnings. During World War II, Toscanini lived in Wave Hill, a historic home in the Riverdale section of the Bronx in New York City. Toscanini died at age 89 of a stroke at his home in Riverdale on January 16, 1957. His body was returned to Italy and was interred in the Cimitero Monumentale in Milan. His epitaph is taken from one account of his remarks concluding the 1926 premiere of Puccini's unfinished Turandot: "Qui finisce l'opera, perché a questo punto il maestro è morto" ("Here the opera ends, because at this point the maestro died").
In the picture, Arturo Toscanini (second from the right) with his parents and his two sisters. Courtesy of De Agostini Picture Library.
© 2016 MY ITALIAN FAMILY, LLC. All rights reserved