Earlier this month, I had my long-awaited visit to the Italian Consulate in New York as part of my process for applying for Italian Dual Citizenship. It was a trip that I'd waited almost three years for and came more than a year after I completed my last piece of research on my great-grandfather, Calogero.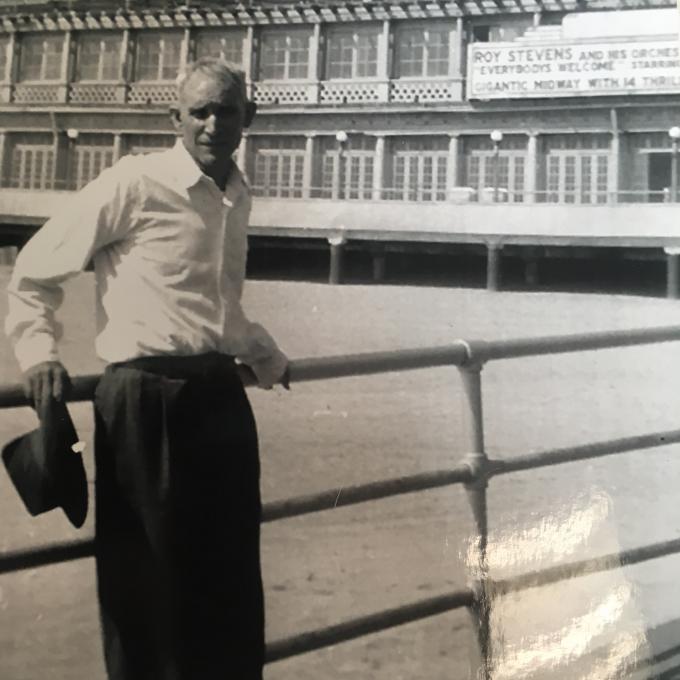 My great-grandfather Calogero
Although it was a nerve-wracking experience, I was approved and am now eagerly waiting for the opportunity to apply for my Italian passport.
There are a couple of things to be aware of when you're preparing for your visit to the Italian Consulate. 
• First, the visit is essentially a business transaction and should be treated as such. Dress well, make sure your documents are in order, and be friendly and polite -- but be prepared for there to be little to no small talk. 
• Second, because there's likely been a lapse of several months - if not a year or more - between when you finished your research and the date of your appointment, you should read through your documents prior to your appointment. I reviewed my files the night before and found that to be very helpful.
One more thing that helped - I made small packets for each life event. For example, I used a paperclip to put together my U.S. birth certificate, the apostille, and the Italian translation and then clearly wrote what was in the packet on a post-it note. That way, it was easy to hand over the correct document when the reviewer asked for it. Whatever you do, don't unstaple and re-staple the Apostille, even if it makes it easier to copy the files!
• Third, it's better to be slightly over-prepared than slightly under-prepared. I have four great-grandparents who were born in Sicily and decided to get full documentation for two - Calogero and his wife, Maria, my great-grandmother - and trace my ancestry through that branch of my family.
With the help of My Italian Family, I was able to dig up birth certificates for Calogero and Maria from their village, Santa Caterina Villarmosa. Calogero and Maria moved to the U.S. prior to their marriage, which made it easier to find their marriage and death certificates through Ancestry.com. I was able to secure similar documentation for my grandfather, Sam, Calogero's son, and his wife, Rose, my grandmother, and the rest of the necessary documents for other family members.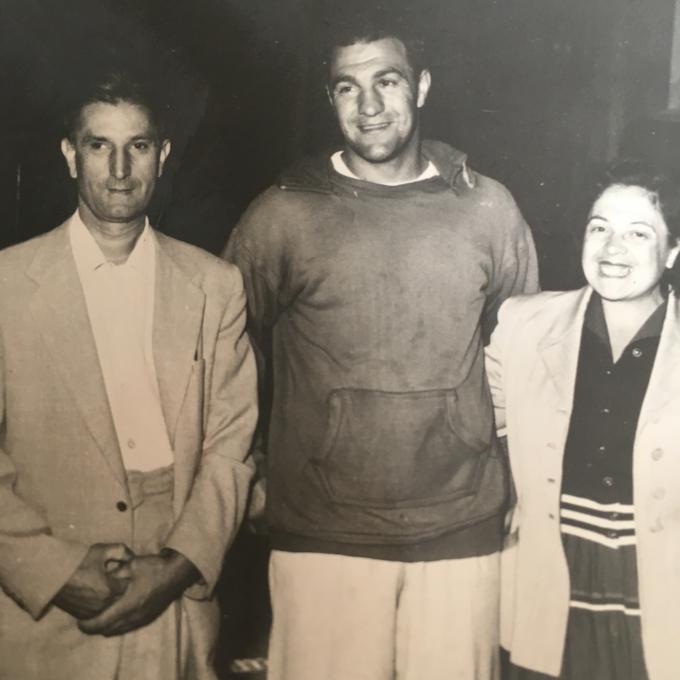 My grandparents, Sam and Rose, with the boxer Rocky Marciano!
The Consulate staffer who reviewed my file looked closely at Maria and Rose's documents but ultimately decided that I didn't need them, which was fine. I wasn't convinced that they were necessary but having them was a little extra security - it was like wearing a belt and a pair of suspenders at the same time!
All in all, the appointment took about 45 minutes. One interesting aspect of the process is that while it was a very emotional experience for me, it's a necessary and thorough bureaucratic function for the consulate. I was itching to talk about Calogero, who I remember very clearly, but I realized that the consulate appointment isn't the time for that. The reviewers take their jobs very seriously - as they should - and read through my documents very closely. 
The bottom line is that I was approved! I should get a form in about a year so that I can apply for a passport.
The time for thinking and talking about my relatives will come this summer, when my family and I travel first to Rome and then to Palermo, where we will see the port where my great-grandparents said goodbye to Sicily. Then we'll travel to Santa Caterina Villarmosa, the town where Calogero and Maria both lived before they came to the U.S.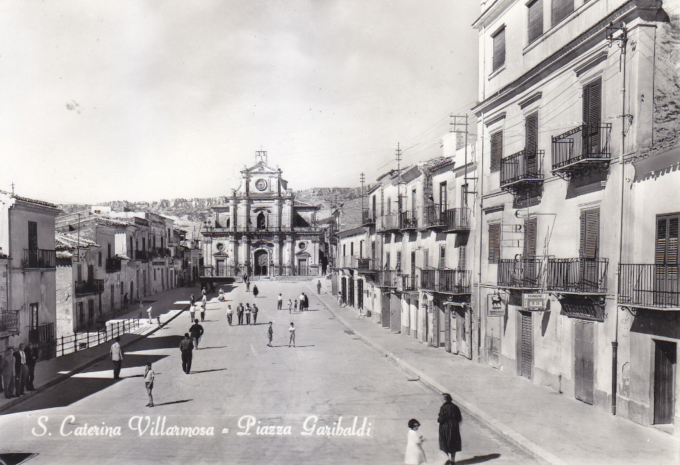 I'll be the first person from my family to return to their town in almost 120 years and I'm looking forward to seeing if I've got any long-lost cousins in Santa Caterina Villarmosa!
A special THANK YOU to Samantha R. who kindly offered to share her very valuable experience dealing with the Italian Consulate in New York City with all of us. Congratulations Sam!
Whether you need assistance with a specific service or would like someone to assist you with your application from "Start to Finish", we are here to help.