If you are starting your journey to become an Italian Dual Citizen, the first thing you need to do is "verify" that you qualify through your family lineage. How? By researching the Naturalization Records of your Italy-born Ancestor.
PLEASE NOTE: Immigrants did not become US citizens just by arriving here in the US; often the date of arrival is confused with the date of naturalization. 
As a rule, naturalization was a two-step process that took a minimum of five years.  After residing in the U.S. for two years, an alien could file a "Declaration of Intention" (so-called "First Papers") to become a citizen. After three additional years, the alien could "Petition for Naturalization." After the petition was granted, the "Oath of Allegiance" ceremony would take place and a certificate of citizenship was issued to the alien.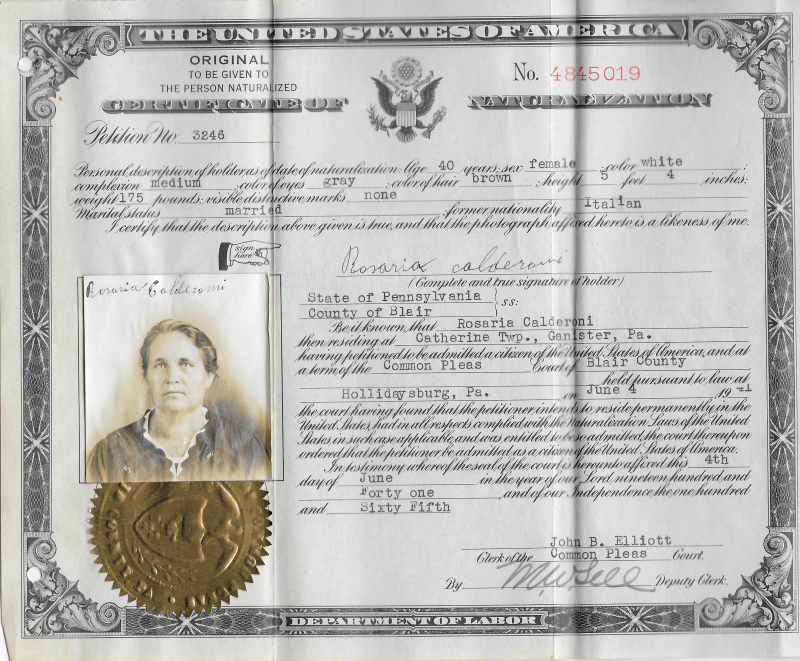 The Oath Date is key because it's when your Italy-born Ancestor officially renounced to his or her Italian citizenship; if it happened before the birth of the next-in-line son or daughter here in the U.S. and before July 1, 1912, you don't qualify. If, on the other hand, he or she naturalized after or never did, you qualify.  
Prior to 1906, any "court of record"-municipal, county, district, state, or Federal court-could grant U.S. citizenship. Information included on pre-1906 naturalization records varies widely from state to state since no federal standards existed at the time. Most pre-1906 US naturalization records often list very little information beyond the immigrant's name, country of origin, arrival date, and port of arrival.
Beginning 27 September 1906, naturalization courts across the U.S. were required to forward duplicate copies of Declarations of Intention, Petitions for Naturalization, and Certificates of Naturalization to the U.S. Immigration and Naturalization Service (INS). These post-1906 records include the alien's month and year (or possibly the exact date) of immigration into the United States (listing the original name of the Ancestor upon arrival in the US), the date and place of birth, the occupation, the spouse's name and place of birth, often when they were married, and their children's dates and places of birth. Descendants of those children already born in the US before their father or mother took the oath, may qualify for Italian Dual Citizenship.
QUESTIONS? CALL US FOR A FREE 15 MINUTE TELEPHONE CONSULTATION AT 1-888-472-0171