A word from our Founder: "Valeria and I spent a wonderful year together studying at the London Business School in 1999. When we first met we discovered we had many things in common: we both were native Italian, we both shared similar business backgrounds, and we both wanted to do something different. As it often happens, upon graduation, we went our own way focusing on our professional and personal lives, but I never doubted that the very talented Valeria would have found success no matter what she would have chosen to do. After several years in Investment Banking where she succeeded as a professional woman in a male-oriented industry, she turned her passion for creative writing into a new career. I asked Valeria to talk about her Italian Roots, her native region of Puglia and how all this turned into her beautiful debut novel: That Summer in Puglia."
'Where is home for you?' and 'Do you feel Italian or…?' are questions familiar to Italians living abroad and to descendants of Italians all over the world.  In my case, the adage that 'home is where the heart is' suggests the answer: home is in Italy, where I was born and grew up, and in the UK and Switzerland, where I studied before settling in London (where I still live and work) many years ago. Many of those dearest to me are in these three countries. 
But my native region of Puglia is the place which fired my imagination because it's extraordinarily beautiful and I know it intimately. Being familiar with its society and landscapes, I could picture the characters of my debut novel, "That Summer in Puglia", moving through real-life streets, houses, country roads, beaches… I've spent every summer on the coast beneath Ostuni, a whitewashed hilltop town magical by day and night. The views of ancient olive groves and of the Adriatic Sea from a terrace, the aromas of freshly picked tomatoes or grapes coming out of the contadini's doorways, the grooves carved by carts into white flagstones, the hospitality of the people… all these are things I've experienced in Ostuni in the company of family and friends.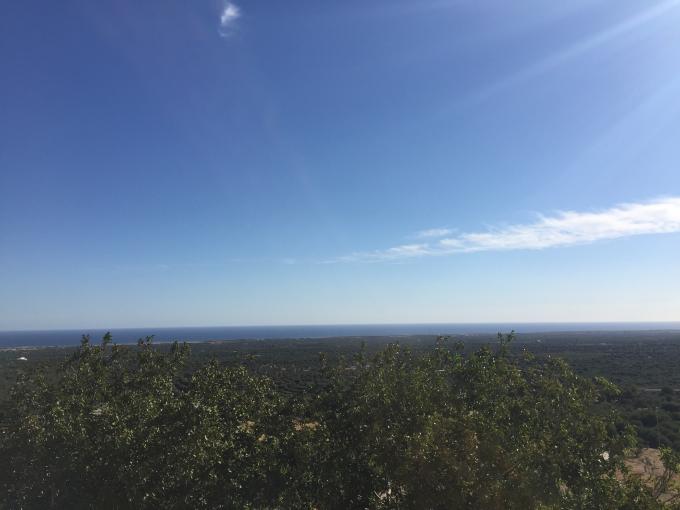 "View of the Adriatic Sea from Ostuni" by Valeria Vescina ©2017, all rights reserved, reproduced with kind permission
The modern coastal road to Brindisi runs parallel to the Appia Traiana of ancient Roman times – you can see sections of it on bicycle routes throughout the countryside and in the ruins of Egnazia, an ancient town inhabited from the Bronze Age to late Antiquity. The Norman round church of S. Giovanni al Sepolcro in Brindisi features in my novel; it was built in the 11th century on top of a Roman house. The windows of my childhood home opened onto the square of S. Giovanni, so, as a little girl I had a strong sense of the generations of people who had walked there over two millennia. Brindisi is a port city, for centuries the point of departure and arrival for merchants, pilgrims and soldiers, and today for tourists en route to Greece, Albania, Turkey…  Its harbour witnessed events ranging from Caesar's siege of Pompey's fleet, to Special Operations training during WW2, and, today, the activity of a major United Nations logistics base.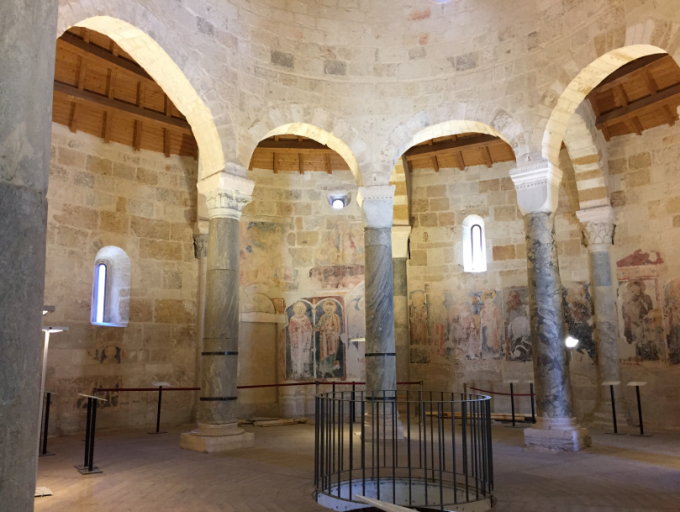 "Church of S. Giovanni al Sepolcro in Brindisi" by Valeria Vescina ©2017, all rights reserved, reproduced with kind permission
Apulian cuisine reflects our history of conquest by successive cultures. Cartellate, our honey-dipped Christmas sweets, are identical to Crete's xerotigana or to the diples of other parts of Greece, betraying their birth as offerings to the goddess Demeter when the area was inhabited by Hellenised Illyrians. Orecchiette, the region's famously traditional ear-shaped pasta, have their origin in the Middle Ages, as a specialty introduced either by the Jewish community thriving under the Norman and Swabian rulers or by the Anjou (French) kings of Southern Italy. In London, my family and I must have our supply of orecchiette, to cook with a succulent Apulian ragù or with broccoli spears – 'tastes of home' which set off lovely memories of countless meals at my grandparents', parents', friends'…  
One of my favourite family photos shows four generations: my children and me; my mother and her parents; and, in the portraits on the wall, my grandmother's parents. Its personal significance requires no commentary. But it is also a snapshot of Apulians' diverse ancestry. Both my great-grandparents had Spanish surnames, reflecting the high number of Spanish soldiers stationed in Brindisi in the 1500s and 1600s. My grandmother's and her father's fair skin and green-blue eyes testify to the widespread genetic imprint of Northern conquerors and settlers. Not in the photo is my paternal family line: my grandmother came from an area near Lecce which is home to substantial ethnic-Greek minorities since the Early Middle Ages and probably much earlier. So, looking at photos of even just one family provides an inkling of how history is very much 'alive' in Puglia's people.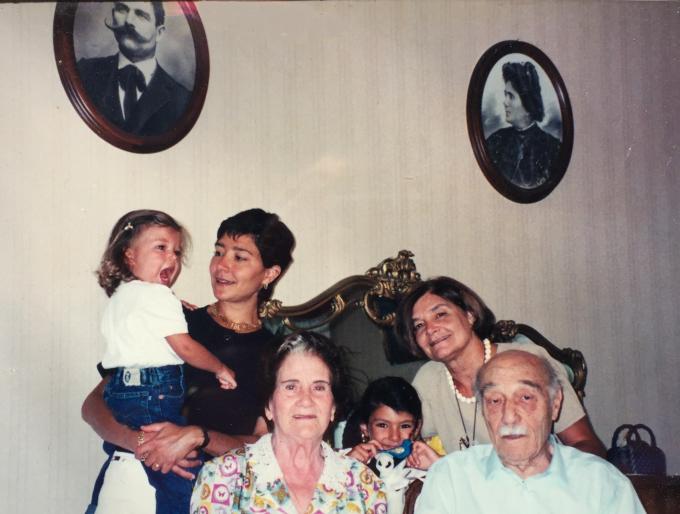 Valeria Vescina ©2017, all rights reserved, reproduced with kind permission
No wonder, then, that you'll find the warm hospitality sacred to the ancient Greeks; the monumental remains of Roman cities; Norman churches; castles and palaces from the eras of Swabian, Anjou, Aragonese, Venetian and Spanish domination; a scenic coast – the longest in Italy, running along both the Adriatic and Ionian Seas – dotted with watchtowers against Ottoman corsairs' raids… 
So, for me Puglia is a place of affections and memories, but also of breath-taking beauty and fascinating layers.  How can it not inspire incessant curiosity and trips of the imagination?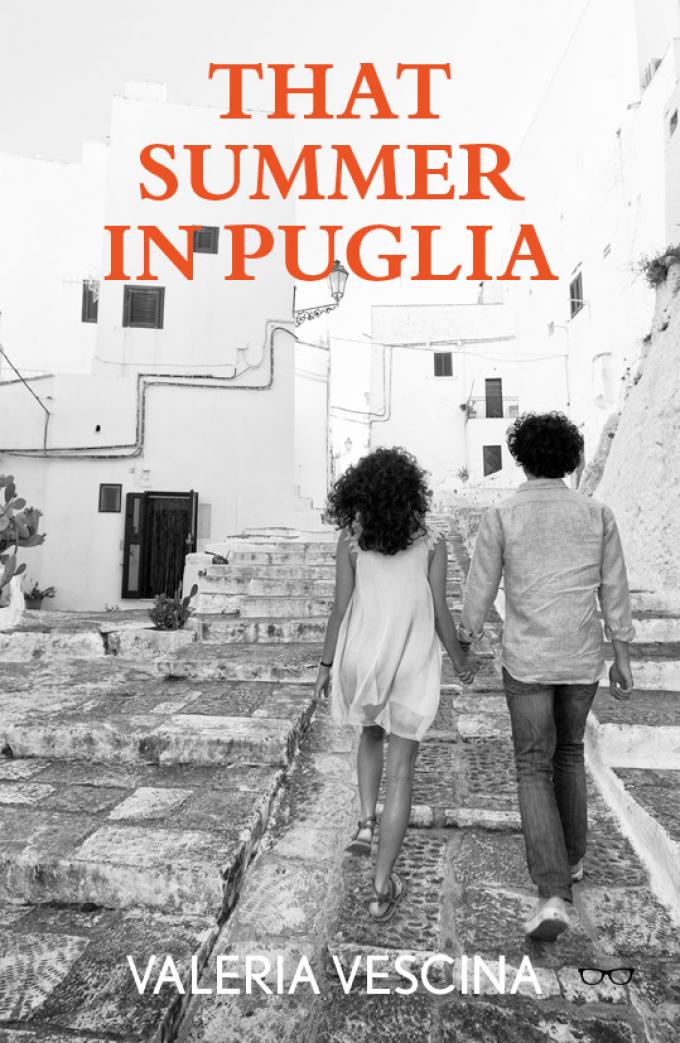 "That Summer In Puglia cover photo: © Salvo d'Avila; all rights reserved; reproduced with kind permission of the artist. Book cover graphic design: Edwin Smet." 
Valeria Vescina's debut novel, That Summer in Puglia, was launched in March 2018 on Italian Day at the FT Weekend Oxford Literary Festival. It is available on Amazon.com and all major retailers. For more information, please visit: www.valeriavescina.com