Thank you for your interest in our Travel to Italy research services.  We're excited you're considering visiting your Ancestral Town with us!  My Italian Family has been turning Italian family history dreams into reality since 2000.
What you can expect to receive
Our On-Site Assistance Option includes an entire day with of our bilingual professional researcher in your Italian town of origin. We can help you and your family with the following:
Research of your family history in both municipal and church records
Tour the neighborhood where your grandfather was born, the cemetery and walk the footsteps of your Ancestors OR
Attempt to locate your living relatives
Recently, I made my "Pilgrimage" to my Town of Origin - Campagna (Salerno): it has blown my mind entirely. It started with the anticipation of what might be ahead and ended in sheer amazement of all that this town held for me. MORE HERE.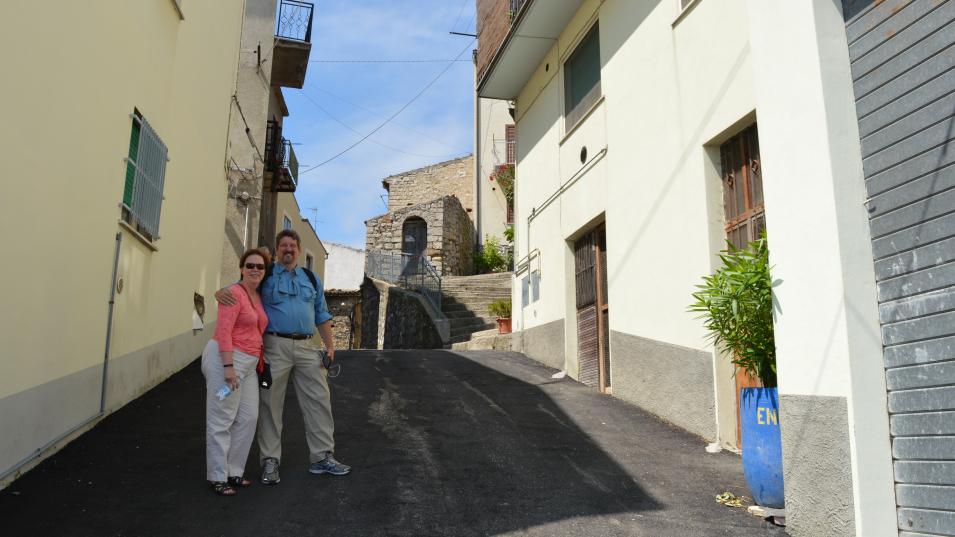 Walking among the village and dwellings where my Great Grandfather was born and lived as a young boy was exhilarating. MORE HERE.
How fantastic to see my maternal grandfather's birth record handwritten in the Birth Volume from 1882...MORE HERE.
The Process
You are all set to travel to Italy, Venice, Florence, Rome, but you know something is missing...how many times at the dinner table you heard your family members talk about the village where grandpa and grandma were originally from. If you are in search of your Italian Roots and would like to experience where it all began, meeting one of our bilingual researchers in your ancestral town for a day, may be the best decision you ever made. 
The day starts at the Municipal Building where you will be able to sort through these giant ledgers looking for the birth of your Italy-born Ancestor, his siblings, his parents and grandparents; it's like watching a family member's life unfold before your eyes, peeling back generations of family history. From this process, we will be able to record the street addresses that your ancestors lived on, and the parishes they belonged to. Based on what your goal for the day is, the research of your family history can continue further back in the parish church records or focus on reconnecting to your living relatives. 
You will be able to walk your Ancestors' footsteps and visit the neighborhood where they lived, in hopes the original home is still standing; touching the old stone and thinking about the life its walls once housed can be exhilarating. 
A visit to the cemetery often follows; you will be walking among the graves in search of familiar names while church bells chime in the distance. 
Lunch in a local restaurant follows where you will be able to enjoy specially prepared traditional dishes and taste local wine. If names, addresses and phone numbers of your living relatives where located ealier in the morning, there is a strong chance you will be meeting them throughout the day.
These experiences can be significant milestones in your life, ones you will never forget.
Things to know before you buy
We suggest you find an accommodation the night before the Family Trip takes place that is not far from your town of origin. If you are renting a car, have your smart phone or tablet handy for directions; driving in Italy can be rough.
Customers must take care of their own transportation. 
We always perform some preliminary research before meeting you onsite in Italy to make sure the town of origin you provided is indeed the exact one. We then contact the town hall and the local church to make sure both town hall official and parish priest are available to meet us on the day the Family Trip is scheduled to take place and to make sure the cemetery is open; it's always best to provide us with a "date" at least 4 weeks in advance. 
Given that we are dealing with public offices, you should always plan your Family Trip onsite in Italy on a weekday.
In the event, while onsite, that we discover, after researching a few records, that your family hailed from a nearby town, we will drive you there; since neither town hall or church were contacted in advance, there is always the risk of finding the offices closed if we get there after hours.